You guys, I just realized I've never done any type of home tour on the blog! Part of that is on purpose though. With social media and blogging, it can be really easy to have your entire life on display. Sometimes, it's nice to have a few things your keep private. A "safe space" that's just yours and can't be judged or discussed. AND we've spent a lot of time over the last couple of years updating our house. I didn't want to share anything until it was done and exactly how we wanted it! So I thought it would be fun to give a little glimpse into one of my favorite rooms of our house, the game room!
When I say game room, it's more like a game hallway. Our house has an oddly shaped hallway that we couldn't figure out what to do with. It sat empty for months and months until one of our friends was giving away a shuffle board table. So we did what anyone would do and picked up that shuffle board (don't even ask me how we got it into the house with just the two of us) and put it in our oddly shaped hallway. Oddly enough, it fit perfectly. So we decided to run with it and make our childhood dreams come true. Because who doesn't want a game room! I use that term pretty loosely btw, it's not like we have a bunch of pinball machines and an arcade set up. But, we got pretty crafty and managed to throw together a game room + bar without spending a ton of money. Mama like… saving money is one of my favorite past times.
Do It Yourself Bar and Game Room
So what's so DIY about our room? WELL… when we started putting everything together, we realized it was really hard to find furniture that wasn't insanely expensive. Sorry, but I'm not spending $500 on bar tables. Especially when we didn't know if the whole "game room" concept would pan out. So, Tony (being the handy man that he is) decided to not only make our tables, but built the entire wall behind our bar! Impressive, right!?
The tables are standard bar height and basically just pieces of stained butcher block/wood on hinged mounts. Tony went to a hardware store and bought these mounts that would serve as bases that are drilled directly into the wall. Because we have limited space, we didn't want to take up a bunch of room with standard table bases. That way you can put your legs under the table and not bump into anything. Bonus: they hinge! So if we need to move anything in and out or create more space, the table tops pop up and down!
The wall was another story. It took a long time for us to figure out how to create our bar area. All credit goes to Tony on this one, I just supervised and nodded my head a lot. He got a bunch of boards (similar to this), then stained them.
Did you know you can make your own "reclaimed wood". Whether you want to make a wall, shelves or use it for decorating, you don't have to spend a fortune on reclaimed wood. Grab a mason jar and fill it with White Vinegar, then add steel wool (don't screw the lid on or it will explode).  Leave it for a few days and you'll get a DIY stain that distresses wood! Then you can either paint it onto your wood or use a spray bottle. If the stain is too dark, take some sand paper to it to lighten it up! If you want a more detailed explanation, here's the process we used. Note: we didn't wax the wood, but left it natural.
Tony and his friend cut the wood into smaller pieces and then mounted it onto the wall. Before putting the planks up, they mounted a piece of plywood to the wall. That way if there were any cracks, you'd see wood and not white paint. Lastly, he added 2 floating shelves, which are both just stained wood (nothing fancy). Instead of buying all of these products at retail for a premium, making it saves a ton of money. The boards we used are only about $4 each. So if you ever want to make your own shelves, it's a really great, inexpensive option! You can even ask them to cut it to size for you at the hardware store!
What is Mixbook?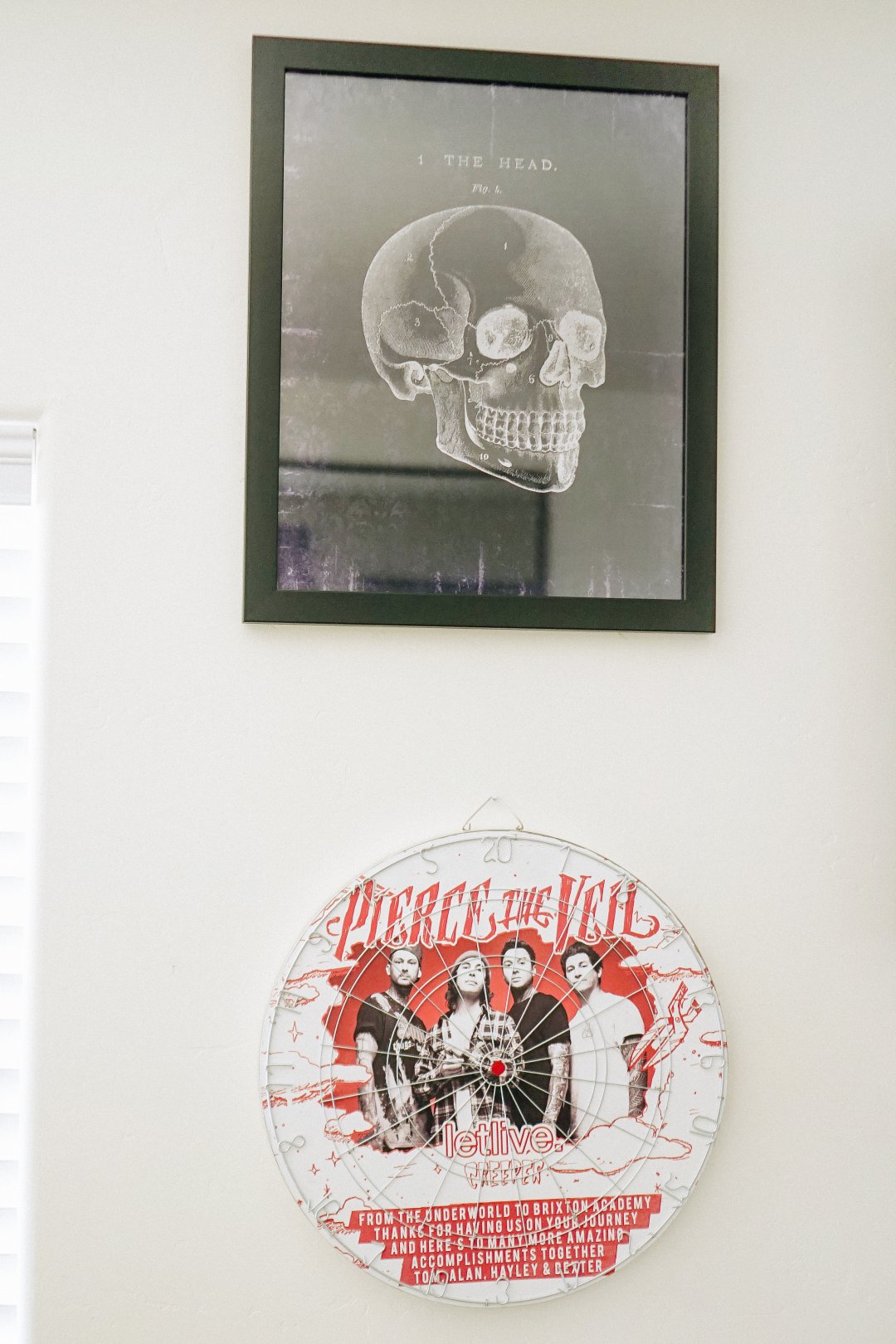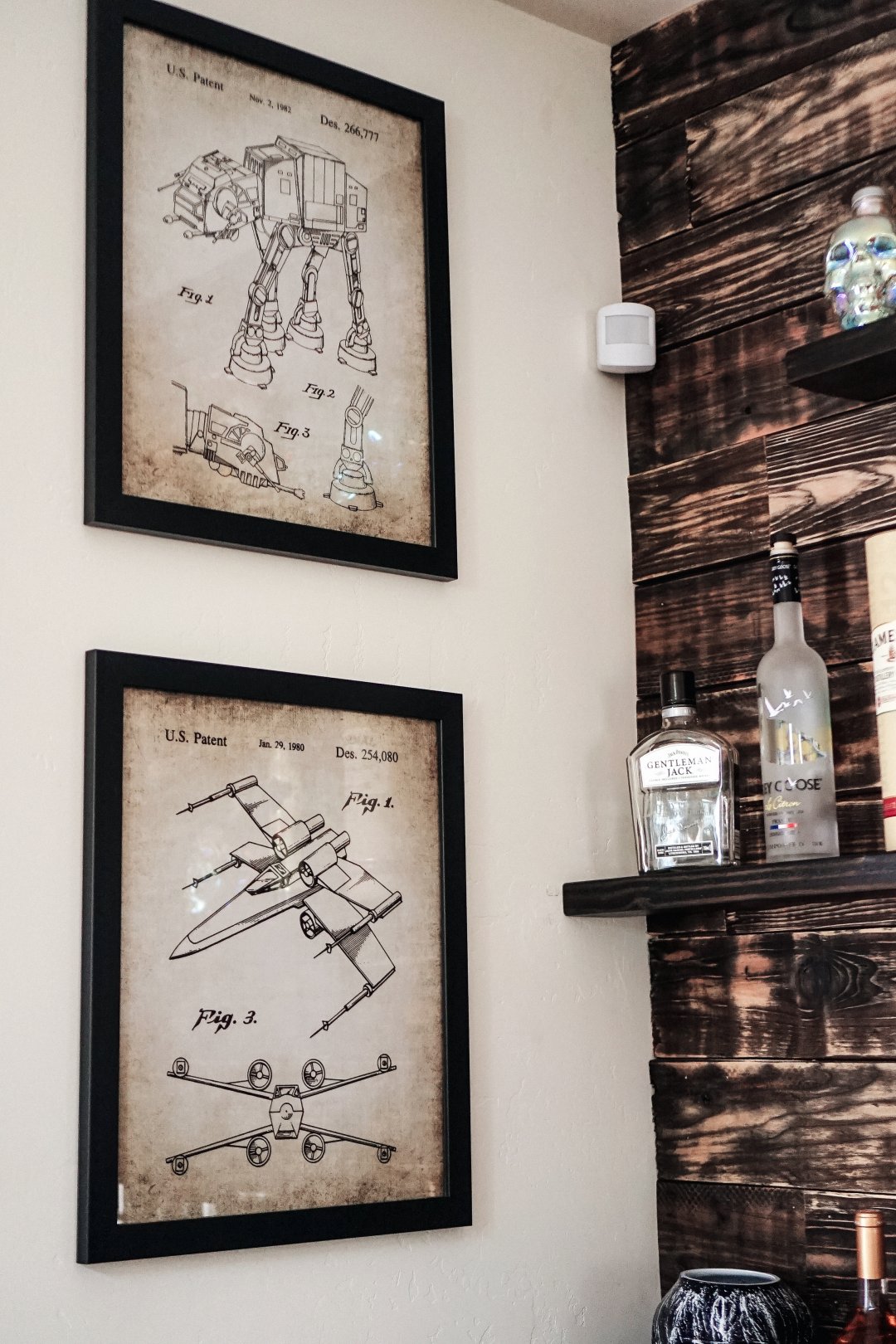 Alright, so I'm going to share one of my top decorating secrets with you guys… Mixbook! In a nutshell, Mixbook is an online design tool you can use to create customized photo products like books, posters, calendars, canvases and framed pictures. You can use their online editor for free and there are no limits to the amount of design templates you can create.
One thing we really struggled with was finding unique art for our home that fit our aesthetic. There are tons of places to buy posters and framed prints, but they didn't really fit our style. We wanted to find things that fit our personalities and likes. Enter Mixbook! Tony and I spent some time finding photo files for artwork that we both liked.
I found these fun Star Wars Patent Prints that we thought would be perfect for the bar area. I like that they're kind of rustic looking but still super nerdy. For the game room, I found this kind of goth/grunge Scull Print and Vintage Dinosaur Movie Poster. One of Tony's friends is an artist and also sent us some cool files to use form his clothing company.
The cool thing is that we found a ton of art online that fit the room PERFECTLY and all we had to do was download the files! You can find tons of free and cheap photos online and turn it into actual art!
PS…
How does it work?
The first thing you want to do is find your art. You can use vectors, prints or even photos. If you've got an awesome picture of your best friends you want framed, just make sure it's a high resolution file!
Browse the site and decide what type of product you want to create. I made poster prints and then opted to have them framed.
Make a few options and add them to your cart. Once you're done, you can look at your creations and figure out which ones work best!
After you order them, Mixbook prints them for you and ships them to you directly! All that's left is to figure out where you're going to hang them!
DIY Bar Essentials
The first thing you need is an actual bar. We got a wine cabinet so that we could stack the bottles instead of having to keep them all out. I also really like that the version we got has a drawer and cabinet to keep glasses & accessories. Depending on your space, a bar cart is another great option. Bar Carts are a little smaller and take up less space. HERE are some of my favorite bar carts. Don't forget to check for floor models too! Every furniture store has floor models and blemished items. If you don't mind a scratch or two, you can get a great deal!
So what exactly do you need to get a bar set up? There are a million tools and gadgets, but here are the essentials:
A Bar Tool Set – way easier than buying things individually.
Coasters – such an adult thing to buy, but it will save your table tops from getting ruined with drink rings!
An Ice Bucket – way fancier than having to dig through a drink cooler with your hands.
A Bottle Stopper – not only does it look pretty, it'll save your bottles if you accidentally toss the cap!
A Juice Press – perfect for adding a little citrus to a drink.
Stock up on base spirits like gin, rum, whiskey, vodka and tequila.
Grab a couple of liqueurs that complement your base spirits.
DIY Gameroom Essentials
You don't need a giant shuffleboard or pool table to have an awesome game room. Just make sure you have the essential games and some other fun options! We stacked our boards games underneath our shuffleboard with a small table. You can do something similar in a corner or closet using a simple shoe rack! For tabletop decoration, we grabbed some mason jars and threw all of our chess and checker pieces in, which also helps from them getting misplaced! You could do this for a coffee table or even on a book shelf!
Some of our favorite games:
We also decided to set a TV up above our shuffle board for Mario Kart! If you're looking for bigger items, I recommend starting with a shuffle board table or dart board because they take up less room!
What other things do you think we should add to our game room!? Be sure to let me know on Instagram if you have any ideas for us!
Check out these other posts:
Shop Our Bar & Game Room:
SaveSaveSaveSave